Programs Team
Delivering excellence in programming for children
Peter Timmerman
Vice President, Programs
Toronto, Canada
Peter brings 22 years in community-led international development management to CFTC from leadership roles with World Renew and World Vision. He joined CFTC after a five-year assignment as World Renew's South Africa Regional Team Leader based in Malawi.
Peter has a strong track record and reputation for building teams, and for leadership and management of community and organizational development processes. He brings expertise in community-led development through a Theory of Change methodology to deliver enhanced livelihoods, sustainable food security and improved maternal and child health. He has lived and worked in Uganda, Tanzania, Zambia and Malawi, and has been engaged in program work in 19 different countries in Africa.
Peter's research interests include the application of complex adaptive systems theories to community and poverty assessment and planning.
Duncan Campbell
Director, Program Development & Quality
Toronto, Canada
Duncan joins CFTC with a 30-year track record in relief and development which has included working with PLAN International, World Vision, SNV, and CRS.
After graduating from the University of Alberta as an agricultural engineer, Duncan went to Peru with CUSO where he was part of a small NGO providing technical assistance to smallholder farmers.
Returning to Canada for graduate studies in Christian theology at Regent College in Vancouver, he eventually headed off to Niger as a Projects Engineer with ISAID in Filingué.
Duncan has lived in 11 countries in Africa and Latin America, providing technical assistance around the globe, across most types of relief and development interventions and in all sectors, with the common thread being his focus on working primarily with the rural poor.
Jess Hudson Hum-Antonopoulos, BPAPM, M.A.
Program Technical Advisor
Toronto, Canada
Jess joins Canadian Feed The Children after time in Malawi as a Project Manager for the DfID-funded Girls' Education Challenge Project with Theatre for a Change. There, she worked with female teachers in theatre and participatory learning to improve access to education and sexual and reproductive health for rural girls across Malawi. Previously, she worked in Malawi with World University Service of Canada as a coordinator for an adolescent mental health program and as a gender advisor for a variety of local partners. Before Malawi, Jess worked on a number of gender and development projects with the Aga Khan Foundation and the National University of Rwanda in Tanzania, Kenya, Rwanda and Ghana.
Jess has her Bachelor of Public Affairs and Policy Management (BPAPM) with a specialization in Development from Carleton University and her Masters in Gender and Development from the Institute of Development Studies at the University of Sussex.
Jess manages a portfolio of core and institutional programming and contributes gender and education expertise to CFTC's Global programs team.
Victoria Machakaire, M.Phil.
Program Technical Advisor
Ottawa, Canada
Victoria has more than 20 years of experience in sustainable community development in Africa and Asia. She spent the last eight years managing and providing technical support to overseas development programs in agriculture and food security, climate change adaptation, agro-business and marketing, village savings and loans, natural resources conservation, and maternal, newborn and child health. Most recently, she was the Agriculture and Food Security Technical Specialist for World Vision Global.
Victoria has also worked in various project management and capacity-building roles with local and international development agencies in Zimbabwe. While there, she authored a cook book for use by people living with HIV & AIDS and by nutrition support workers to promote nutrition-sensitive consumption habits. She also developed agriculture and marketing manuals and guidelines for conventional and indigenous agriculture systems.
Victoria has a Master of Philosophy in Agriculture (Horticulture major) from the University of Zimbabwe. Her research focused on nutritional aspects and the role of indigenous vegetables in the agricultural systems and diets of Zimbabweans. She is very much interested in research that seeks in-depth understanding of how beneficiaries define success in their own terms.
Danuta Whetton, M.A.
Program Technical Advisor
Ottawa, Canada

Danuta joined Canadian Feed The Children in September 2015 in the role of Program Manager to provide technical and project management support on programs in Ghana and Ethiopia. She brings to CFTC more than eight years of experience from both the public and non-profit sectors having managed a wide range of projects in the areas of food security and nutrition, maternal, newborn and child health, market-led and value chain development, and post-conflict peacebuilding, among others. Her overseas field experience includes various short- and long-term assignments in Ghana, Ethiopia, Kenya, South Sudan, Bangladesh, Cambodia and China.
Prior to joining CFTC, Danuta worked as a Program Officer with the Canadian Hunger Foundation (CHF) and as a Policy Analyst with the Department of Foreign Affairs and International Trade (now Global Affairs Canada) and the Department of Citizenship and Immigration Canada on issues related to Africa-Canada relations and human trafficking.
Danuta holds a Master's degree in International Development with a specialization in Poverty, Conflict and Reconstruction from the University of Manchester, and a Bachelor's degree in International Development and Globalization from the University of Ottawa. In her spare time, Danuta sits on the Board of Directors of EcoEquitable, a textile recycling social enterprise, and is an active contributor to the online and print publication BeHealthyBeBeautiful (BHBB) Ottawa.
Asad Rahman, M.Soc.Sc.
Management/Geographic Information Specialist
Bangladesh
Asad brings more than 10 years of experience designing, establishing and managing automated monitoring, evaluation and learning (MEL) systems for projects across Asia, Africa and the Americas. An expert in Information and Communication Technologies for Development (ICT4D), Asad is well-versed in results-based management and quantitative and qualitative research methods.
Prior to joining CFTC, Asad worked in various capacities for the Canadian Hunger Foundation (CHF), World University Service of Canada (WUSC), and the Institute of Integrated Rural Development (IIRD) in the areas of food security and nutrition, education, livelihood enhancement, adaptation and resiliency, market-led development, human rights and governance, and capacity building. Asad's overseas field experience includes Bangladesh, Cambodia, Vietnam, Ethiopia, Kenya, South Sudan, Ghana, Mozambique and Zimbabwe.
Asad is a proficient MEL trainer and facilitator having presented at the 2013 American Evaluation Conference and the 2014 Canadian Evaluation Conference. He has a Masters and a Bachelor in Social Science from Bangladesh National University.
Shirley Estevez
Country Director
La Paz, Bolivia
With a Bachelor's degree in linguistics, Shirley made a career as a translator for INGOs World Vision, Christian Children's Fund and Plan International in their Bolivia offices prior to taking on more of a programs focus in the role of Communications and Sponsorship Manager for Plan International in La Paz. She joined CFTC in 2011 as Program Officer, responsible for day-to-day management of our local partners and for monitoring the achievement of strategic and programmatic priorities. Shirley has held the role of Country Director since 2015. She has also returned to university to complete a degree in education.
Erika Bockstael
Interim Country Director
Winnipeg, MB
Erika worked in international development for over ten years before deciding to return to university to study for a PhD in Natural Resources and Environmental Management. Erika has worked for multiple community-based organizations and for a number of international NGOs, including Right to Play, the Canadian Red Cross, and Oxfam.
Before embarking on her international career, Erika completed an undergraduate degree in recreation management and community development as well as a Master's of science in therapeutic recreation. With her PhD almost complete, Erika has joined the CFTC Canada team as Policy and Program Advisor.
Tyra Cox
Program Officer
Winnipeg, MB
Tyra joins CFTC with a strong background in empowerment and leadership for First Nation, Inuit, and Métis communities around North America. She graduated with a B.A from the University of Manitoba in Native Studies. She has worked in a consulting role to promote economic growth with Indigenous community leaders in Alberta. After returning to Winnipeg, she joined the Indigenous Relations Division of the municipal government as an Indigenous Community Projects and Initiatives Coordinator. Tyra is a KAIROS Blanket Exercise facilitator, supports organizations with capacity strengthening, and volunteers to advance action and change projects for social justice.
Tyra is Sahtu Dene and Anishnawbek, two nations within Turtle Island (Canada). As Program Officer – Canada, she is excited to be using her expertise in building relationships, partnerships, and initiatives by collaborating with Indigenous nations to sustain long-term food security for children, families, and communities.
Gebriel Galatis
Country Director
Addis Ababa, Ethiopia

Gebriel joined CFTC in 2006 and has led the Ethiopian team since 2007. He has built excellent partner relationships and a strong set of programs focused on children's health and welfare. Gebriel has extensive development experience and deep relationships with key stakeholders throughout the country, built on many years of work throughout the country with CFTC and prior to that, other international NGOs and community-based agencies.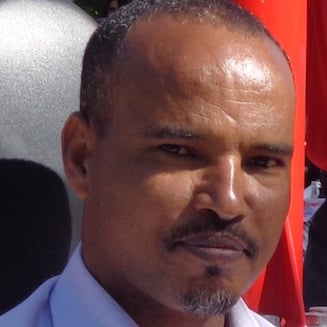 Yeshitila Alemu
Program Manager
Addis Ababa, Ethiopia

With more than 15 years of experience in the international development sector, Yeshitila joined CFTC in 2012 as a Program Officer for the Ethiopia Country Office. Prior to CFTC, he held positions with World Vision Ethiopia and ActionAid International Ethiopia where he provided expertise in the areas of participatory rural development as well as program planning, monitoring and evaluation. Yeshitila holds a BSC in Agricultural Extension and an MSC in Agricultural Economics and Rural Development.
Dawit Mengistu
MILEAR Project Manager and Value Chain Specialist
Addis Ababa, Ethiopia

Dawit joined CFTC in 2015 as the MILEAR Project Manager and Value Chain Specialist for the Market-led Improved Livelihoods in Eastern Amhara Region (MILEAR) project in Ethiopia. He brings to CFTC more than nine years of experience working in several national and international development organizations at different levels in both rural and urban settings. Prior to CFTC, Dawit worked as a Value Chain and Marketing Specialist for the Canadian Hunger Foundation (CHF) and as a Consultant for "Target Business Consultants Plc" where he undertook research on value chain and market-led development, carried out cooperative capacity assessments, and designed capacity building strategies for producers and their organizations. He holds a B.Sc. degree in Animal Science and a BA degree in Sociology, and is currently undertaking a research thesis on Value Chain Development to be completed in 2016.
Berhanu Teshome
Finance and Administration Manager
Addis Ababa, Ethiopia
As the Finance and Administration Manager at the CFTC Ethiopia Country Office, Berhanu provides administrative and financial management support across a number of CFTC programs and partners. Prior to CFTC, he worked in a various capacities in the manufacturing, construction, hospitality and international development sectors. Berhanu holds a Bachelor's degree in Accounting and Finance and is currently pursuing courses to become a Certified Chartered Accountant.
Susan Watkins
Country Director/ RESULT Project Director
Tamale, Ghana
Susan brings a wealth of experience in humanitarian assistance and international development with organizations like Oxfam (Horn of Africa), CARE (Kenya & Albania), Danish Refugee Council (South Sudan), Save the Children UK (Afghanistan), and Christian Children's Fund (Uganda). Susan was most recently Head of Mission with UMCOR (Haiti). Her expertise spans emergency, recovery and long term development programming and country office management, having held a Country Director role in several international organizations.
With an educational background in agriculture and rural sociology (with a thesis on women in agriculture), plus a history of delivering large projects and integrating multifaceted programming, Susan will be a great addition to lead our CFTC Ghana team. Susan is certified as a Project Management Professional (PMP) with expertise in program design and development as well as implementation.
Augustine N-Yokuni
Program Manager
Tamale, Ghana
Augustine joined CFTC in 2011 as a Program Officer for the Ghana Country Office and recently assumed responsibility as the CFTC Ghana Program Manager. Augustine has over 10 years of development experience in managing food security, education and climate change related programs through local level implementing partners. He has developed and maintained strong relationship with research institutions, universities, INGOs, government agencies and community based organizations in Northern Ghana with the belief that collaborative work is the path to a world where children thrive!
Grace Biniyam
Program Officer
Tamale, Ghana
Grace joined the Ghana team in mid-2016 as Program Officer. Previously, she held a senior position as Program Manager with World Vision. She brings to the role strong skills in planning, budgeting and reporting. Grace is an effective communicator and has a great deal of experience in partnership relations, and is also experienced in various child sponsorship models.
AL-HASSAN ISSAHAKU
RESULT Project Monitoring and Evaluation Specialist
Tamale, Ghana
Al-Hassan Issahaku is the RESULT M&E Specialist with over ten years' experience in the design and implementation of M&E systems for donor-funded NGO programs related to food security and nutrition, maternal and child health, education, water and sanitation and conflict resolution. Under RESULT, he is responsible for managing the collection and analysis of quantitative and qualitative data for monitoring and reporting purposes. Al-hassan has a flair for computers, with expertise in numerous statistical software packages; and a Masters of Science degree in Statistics.
EMELDA ADII
RESULT Project Environment/Climate Change Adaptation Specialist
Tamale, Ghana
Emelda joined CFTC in 2015 and has led the integration of environmental sustainability and climate change adaptation into RESULT's interventions in Ghana. She has also designed and delivered capacity building in those areas for staff, government partners and communities. Prior to joining RESULT, Emelda was an environmental health and safety consultant and conducted numerous environmental impact assessments across Ghana.
FUSEINI YAKUBU
RESULT Project Finance Manager
Tamale, Ghana
Fuseini joined CFTC in 2015 as the RESULT Project Finance Manager and is responsible for all of the financial management operations of the project. Fuseini has over 18 years' experience working with non-governmental organizations such as ActionAid, Voluntary Service Overseas and Pathfinder International. He holds an MBA (Corporation Finance) and is a student member of the Institute of Chartered Accountants, Ghana (ICAG).
GRACE YENNAH
RESULT Project Gender Specialist
Tamale, Ghana
Grace is the RESULT Gender Equality (GE) Specialist with over 30 years' experience working with government institutions, donor funded projects, local NGOs and development partners in developing GE tools and learning materials for community and institutional GE capacity building, facilitation of trainings, designing GE strategies, conducting organizational gender audits, and leading and implementing GE in projects and programs. On RESULT, Grace leads the implementation of the project's GE strategy, tracking achievement of outcomes, providing capacity building to staff, government partners and communities, ensuring all monitoring and assessments are gender sensitive and that data is sex-disaggregated.
JAMES KIPO SUNYEHZI
RESULT Project Senior Administrator
Tamale, Ghana
James joined CFTC in 2015 as RESULT's Senior Administrator. He organizes and coordinates procurement, logistics, transport and office operations and procedures, and ensures overall efficiency and effectiveness of the procurement and administration function. James has significant public sector experience both as a Senior Services Administrator with the Ghana Health Service (GHS) and as a District Chief Executive (Mayor) for the Sawla-Tuna-Kalba District in the Northern Region of Ghana.